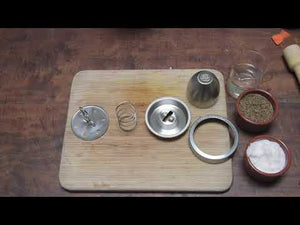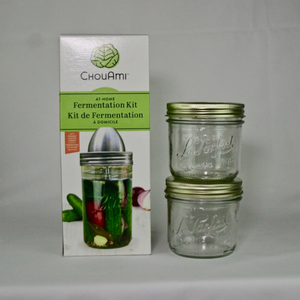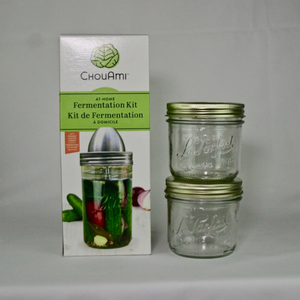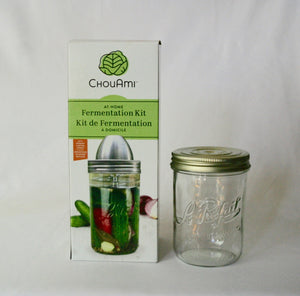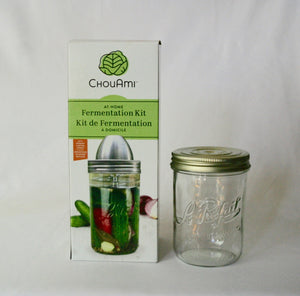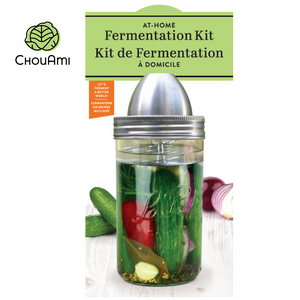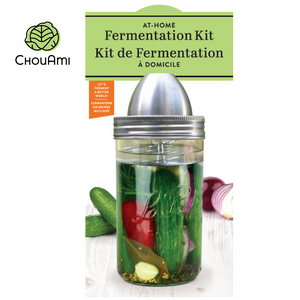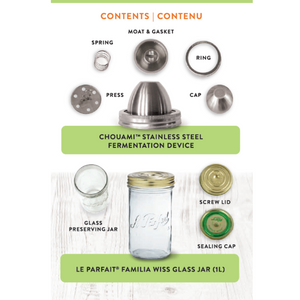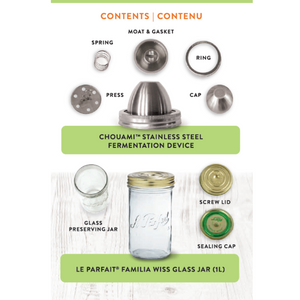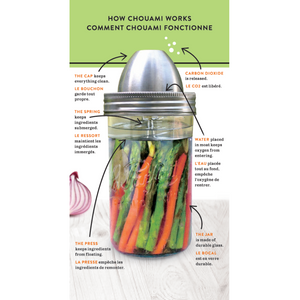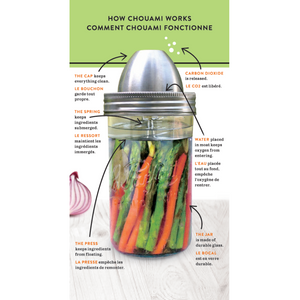 On Sale
ChouAmi Kit + Extra Jar
This special item offers you the joy of continuous fermenting and eating!
1 ChouAmi Kit (Device with 1-Liter Jar)
+EXTRA Le Parfait Glass Jar (choose from four different capacities: 750ml, 1-Liter, 2-Liter, or two 500ml jars)

When you're finished with your first batch of ferment, simply store the jar in the fridge, and start your second batch with your extra jar! No transfer needed.
ChouAmi™ is your trusted friend for making sauerkraut and other fermented foods in small batches with ease and style.
All ChouAmi parts are made of high-quality stainless steel which are dishwasher safe, non-reactive to salt or acid, and built-to-last. Learn more about ChouAmi here.

Watch the short video on the left on how to assemble ChouAmi.
Each Le Parfait glass jar features:
2-piece gold metal canning system*
wide-mouth opening (100mm)
packaged in compostable and recyclable eco-friendly padded cartons
*The gold metal lid system is made from tin-plated steel and can be used for water-bath canning process for long term food preservation.
Gift message:
If you're ordering this item as a gift and would like to include a special message to the recipient, you can write it in the 'Special instructions for seller' box on your shopping cart page.
Genius and support!
I love my chouami kit. The apparatus itself is genius. It came with specific instructions and lots of support. I wanted to get into fermentation but didn't have the confidence. The kit and the support which I actually used during my first process to troubleshoot my kraut made all the difference!
It's nice to hear that you felt supported throughout your fermenting journey! Enjoy your delicious ferments.
Easiest and Best Way for Fermentation!
This ChouAmi Kit makes it so easy and delicious to ferment vegetables. My first attempt was fermenting pickles and they are the best I ever had. I found the recipe on ChouAmi website. Totally happy with this purchase!