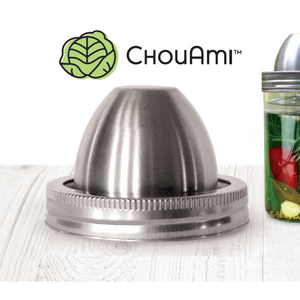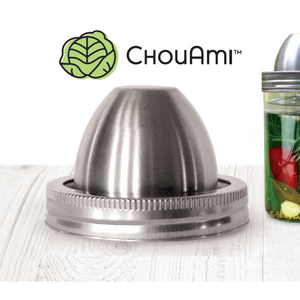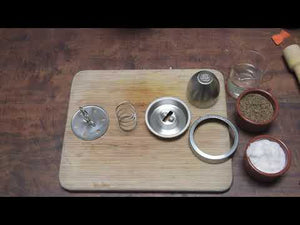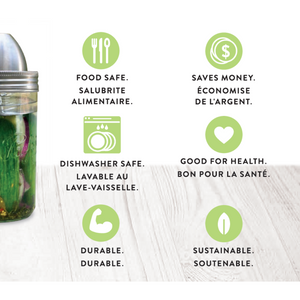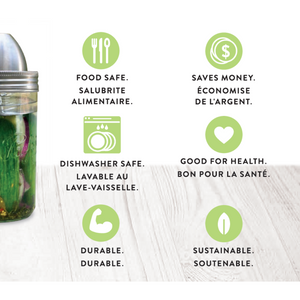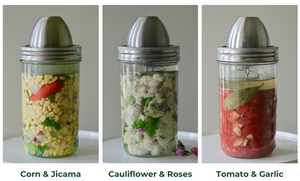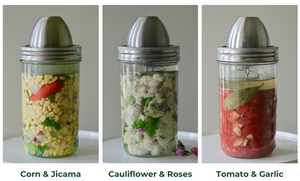 On Sale
ChouAmi Solo (Device Only)
ChouAmi™ is your trusted friend for making sauerkraut and other fermented foods in small batches with ease and style. 
This item is the fermenting device itself; it DOES NOT include a Le Parfait glass jar. If you're looking for the system that includes the jar, you want the ChouAmi Kit (Device with Jar).
All ChouAmi parts are made of high-quality stainless steel which are dishwasher safe, non-reactive to salt or acid, and built-to-last. Learn more about ChouAmi here.
Watch the short video on the left on how to assemble ChouAmi.
Gift message:
If you're ordering this item as a gift and would like to include a special message to the recipient, you can write it in the 'Special instructions for seller' box on your shopping cart page.
Excellent Fermentation Device
Easy to assemble, fully stainless steel, easy to sterilize and with replaceable silicon ring. All that is needed for perfect fermentation and thanks to this invaluable helper I am becoming more and more proficient in my lactofermented creations.
Great design !
as an architect I appreciate the elegant design of the ChouAmi fermentation lids, I hope they start making one that fits "regular" mason jars too - I realize these are in short supply because of COVID and the increased popularity of preserving BUT there are still millions of mason jars out there being used/reused.
Makes fermenting a breeze; Well worth the cost
I vacillated quite a bit about buying this device when I first saw it. The cost seemed prohibitive to my very limited budget. But having invested in some of the equally costly jars, I figured...(heavy intake of breath)...let's do it! So glad I did, and now will be saving up for more. They really do make fermenting veggies so easy and neatly done. Thank you.
We're glad to hear the ChouAmi Solo is a worthy investment for your Sandra!
Great little product
Just tasted my first batch of sauerkraut. Turned out great. ChouAmi makes it easy and convenient.
A simple and elegant product that actually works for me!!!
I've used a number of jar top devices, mostly plastic, and have to say that I'm thrilled to finally have a device that is environmentally friendly, durable and effective. I'm so very pleased with the results from my ferments - I have yet to lose one to aerobic contamination! Thank you!!!
Thank you George! Creating a product that is gentler on the Earth was a top priority for us-we're glad to hear you share our values! Enjoy your ferments.