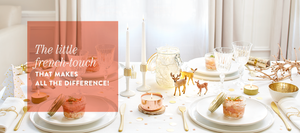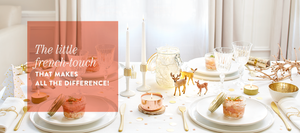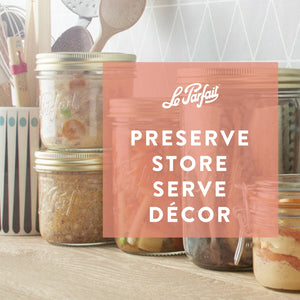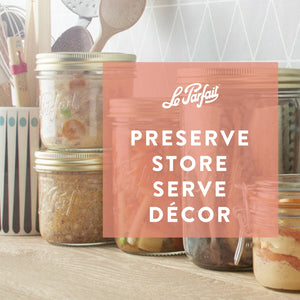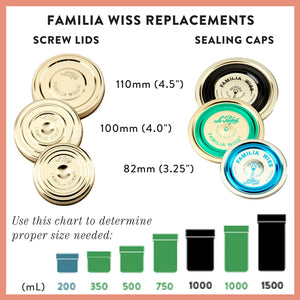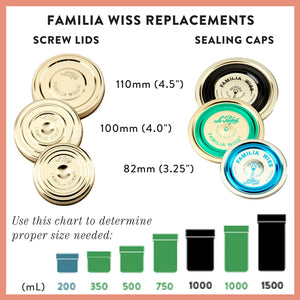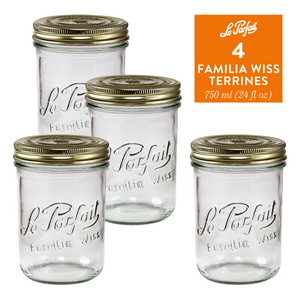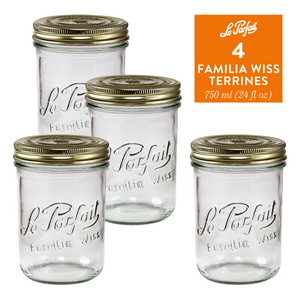 On Sale
Le Parfait Familia Wiss Terrines - Glass Jars with 2-Piece Lids for Use with ChouAmi
15% OFF in July to Celebrate Plastic-free Month!
The Le Parfait Familia Wiss Terrine Jars are the first and foremost jars for use with the ChouAmi fermenting device.
In addition to using with ChouAmi, you can also use these versatile glass jars to preserve your seasonal harvest, revitalize your pantry storage and bulk-goods shopping, serve up a decadent homemade spread, or craft the perfect gifts for your loved ones. Learn more about Le Parfait jars here.
Each jar features:

2-piece gold metal canning lid system*
Extra wide-mouth opening (100mm) is the widest in the industry (more so than Ball/Kerr mason jars)

Packaged in compostable & recyclable eco-friendly padded cartons
Available in 350ml (12 fl oz), 500ml (16 fl oz - Pint), 750ml (24 fl oz) or 1-Liter (32 fl oz - Quart) sizes
*The gold metal lid system is made from tin-plated steel and can be used for water-bath canning process for long term food preservation.
Gift message:
If you're ordering this item as a gift and would like to include a special message to the recipient, you can write it in the 'Special instructions for seller' box on your shopping cart page.
Great products.
Love these jars and the fermenting lids !
Replacement jar
I received a replacement jar from ChouAmi it arrived quickly and in good condition. I started a batch of sauerkraut with lemon and dill right away. It looks beautiful. The system is easy to use and I can hardly wait to taste it.
Top grade canning/storage jars...better than Ball
I can't believe how sturdy (plus attractive) these jar are. Granted Le Parfait jars are expensive, but these will be doing their thing long after I'm gone with the proper care. Love that I can order the rubber rings when they start wearing out. Can't wait to use them for pressure canning. Thanks!!
Thanks Sandra, and best of luck with your pressure canning!
LOVE THE FAMILIA WISS TERRINES
I ordered more of the 1 L Familia Wiss Terrines so that I could do a ferment and then just put the jar with gold metal cap in the refrigerator and then do another ferment. These jars are great in that they have the widest opening available, and they are so solid I think that i could drop one and it wouldn't even break.
Glad to hear you agree a glass jar doesn't get any sturdier than this one!
Perfect!
Loving my jars - these are the perfect size for a batch of pickles and are easy to get the ferments in and out of with the WIDER mouths. Thanks ChouAmi and Le Parfait :)
Thanks Eliza! The straight sides are definitely one of the best features about this jar. Glad you like it!