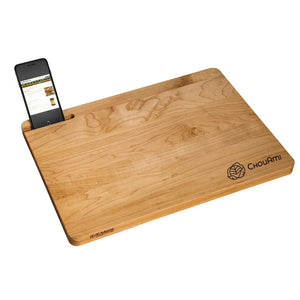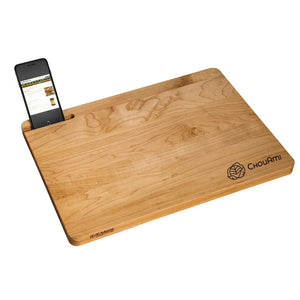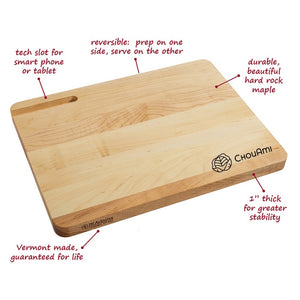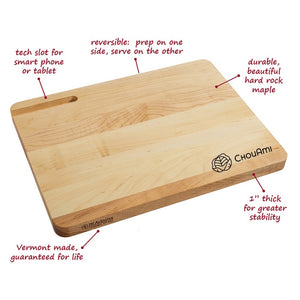 On Sale
Chopping Board with Tech Slot (Maple Wood)
All passionate amateur and professional chefs know that a sturdy strong chopping board is a must for all slicing, dicing, and chopping in the kitchen.

We love this beautiful, one-inch thick board made from hard maple with a tech-slot to place your smart phone or tablet for easy recipe viewing.
16" x 12" x 1"
Gift message:
If you're ordering this item as a gift and would like to include a special message to the recipient, you can write it in the 'Special instructions for seller' box on your shopping cart page.

Phone in picture not included.
Solid
Quality wood. Should last a lifetime
We're glad you like the quality Toan. Enjoy!
Such a pretty cutting board
This board is so well made and so attractive that I just might have to use it for serving charcuterie !!
That's a great use of the board Nicole!
Good chopping
I got this as part of the Kickstarter campaign and wasn't sure I needed another chopping board, but I'm very happy with it.
It's made from maple wood which is very sturdy and the large chopping surface is really nice.
Good to watch YouTube videos on my phone too as I can put it in the 'tech' slot. (not while chopping, though!)
Thank you J.L.! We're glad to hear your fingers are staying safe on the chopping board, tempting as it is to watch an endless cycle of cooking videos!