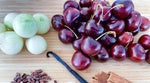 Cherries are in season, and this is a fabulous way to preserve them and to use both the fermented ingredients and the brine in unique ways!
Precise measurements not given in the ingredient list below, because it depends on what size jar you'll be using. The jar used in the photo to the left is 500ml.
You should have about 70% cherries, and 30% onions. You may or may not need more brine, depending on what size jar you're using. Don't worry too much about getting an exact ratio, just have fun and experiment!
Karen Wang Diggs, Chief Fermentation Officer