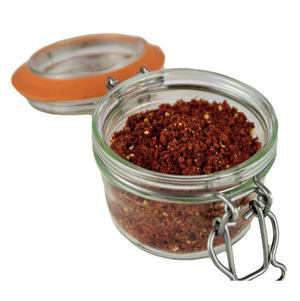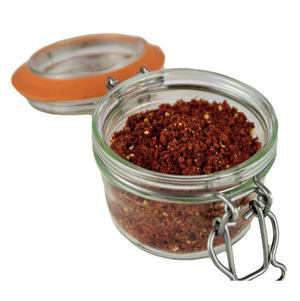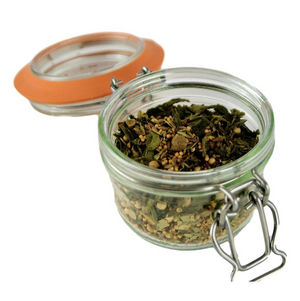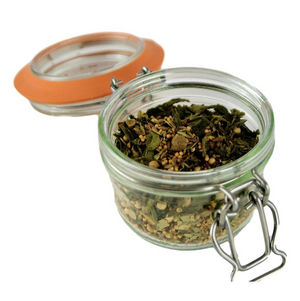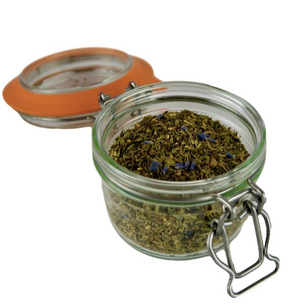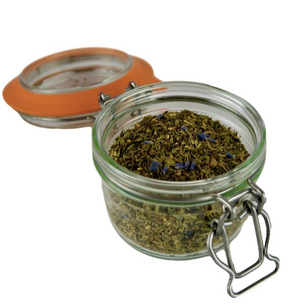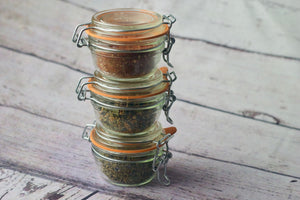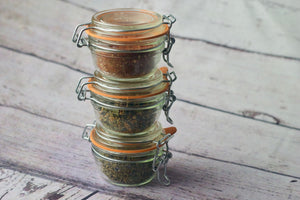 On Sale
Custom Spice Blend (3 Varieties Available)
Liven up your ferments with one of our custom spice blends! Choose from fiery Five Star Kimchi, classic Herbs de Provence, and the always popular Perfect Pickles. Can't decide which one to get? Get all 3 and save $5!

Packaged in an elegant, non-toxic, and reusable Le Parfait Super Terrine glass jar with stainless steel wire clamp. Perfect as a gift! Serving instructions are on the jar label.

Gift message:
If you're ordering this item as a gift and would like to include a special message to the recipient, you can write it in the 'Special instructions for seller' box on your shopping cart page.
Ingredients:
Five Star Kimchi: Gochugaru (Korean red pepper flakes), garlic granules, Chinese five-spice (cinnamon, allspice, clove, star anise, Sichuan peppercorn), cane sugar. All organic except gochugaru. Approximately 10 Tablespoons (150 ml).

Herbs de Provence: Basil, rosemary, thyme, parsley, marjoram, lavender, tarragon. All organic. Approximately 10 Tablespoons (150 ml).

Perfect Pickles: Sencha tea leaves, dill seed, yellow mustard seed, coriander, bay leaf, cinnamon, chili pepper flakes, allspice, ginger, black pepper, cloves. All organic. Approximately 8 Tablespoons (120 ml).

Wonderful purchase
I'm so excited to try out my new ChouAmi fermenter, mandolin, and pickling spice. It smells divine!
Herbs de Provence Spice Blend
This is a lovely blend of spices -- not to overwhelming, yet just enough. While waiting for a shipment of the Perfect Pickles Spice Blend to arrive -- i decided to make a batch of fermented mini cuke pickles with the Herbs de Provence Spice Blend. Turned out just delicious and yummy. The brine is lovely to drink too.
We're glad to hear you enjoyed this custom spice blend! Hopefully the Perfect Pickles will turn out well too.
nice pickle spice
Used this as in the recipe for "Perfect Pickles" the result was excellent.
Spice Blend 3 pack
I've only tried the "Perfect Pickle" variety so far, and the name speaks for itself! I was worried about how my pickles would turn out, however they are so good, I eat them every day. I'm sure I will be just as happy with the other 2 variety. I also really enjoy the glass jar with an air-tight lid - they look beautiful on my counter top and it is like a second gift to be able to continue to use the jar for other spices or something else after these spices have served their purpose.
We're glad that you like the Pickles blend and you agree about the jar! Enjoy the other two blends.
Nice spice
I got the three pack although I was mainly interested in the kimchi blend. Plus those little jars are adorable.
Made a batch of kimchi with just napa cabbage and green onion, and it turned out great! I only comment is that the
kimchi blend was sticky so I had to go in with a fork to fluff it up before using.
Also made the herbs de provence with cabbage and it was very tasty too.
Haven't tried the pickles blend yet.
Thank you J.L.! We're glad to hear your ferments with the Kimchi and Herbs de Provence blends turned out tasty. Let us know how you like the Pickles blend!