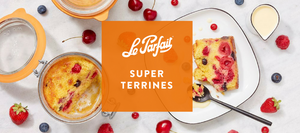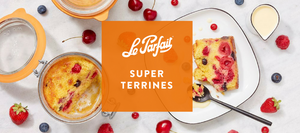 On Sale
Le Parfait Flip Top Glass Jars for Storage and Gifting
NOTE: This jar is not meant to be used for fermenting with the ChouAmi device.
The Le Parfait Flip Top Glass Jars are perfect for storage of ferments or spices, and can also be used for gifting ferments to your friends and family.
In addition to using to store your ChouAmi ferments, you can use these versatile glass jars to preserve your seasonal harvest, revitalize your pantry storage and bulk-goods shopping, serve up a decadent homemade spread. Learn more about Le Parfait jars here.
Each jar features:

Straight-sided glass body, glass lid, 70mm orange natural rubber seal and stainless steel wire clamp, creating an airtight lid system for canning and storage
Ships in compostable packaging

Available in 125 milliliter (4 fl oz - quarterpint) size

The orange seal made from recyclable, food-safe natural rubber is intended for reuse with normal daily usage and is also microwave and dishwasher safe.
*If using these jars for water-bath canning or pressure canning, the rubber seal should be replaced after each canning process to ensure proper vacuum seal for long term food preservation.

Gift message:
If you're ordering this item as a gift and would like to include a special message to the recipient, you can write it in the 'Special instructions for seller' box on your shopping cart page.