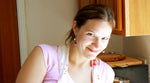 Watch the recording of the webinar HERE
This month we're excited to expand our world of fermented foods with a special webinar on kombucha featuring Hannah Crum, aka "The Kombucha Mamma!" You don't want to miss this event, so reserve your spot at the link below.
Date: Thursday, September 30, 2021
Time: 8:00 ET / 5:00 PT
Venue: Online on Zoom
Host: Karen Wang Diggs, Chief Fermentation Officer
Special Guest: Hannah Crum, founder of Kombucha Kamp, popular speaker about fermentation and bacteriosapiens, and co-author of The Big Book of Kombucha
Attire: Weekday casual
What you'll learn:
The basics of homemade kombucha
Health benefits
A brief history of SCOBY (Symbiotic Colony of Bacteria & Yeasts)
Participants will receive a special link for Hannah's free e-book with recipes
Q & A
Note: A recording will be available after the webinar if you missed the live event.
Space is limited. Please pre-register to ensure your spot.