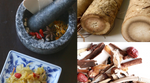 Watch the recording of the webinar HERE.
We all know how good sauerkraut (and other lacto-fermented foods) is for digestion and general well-being. But did you know you can amplify the benefits of your homemade ferments with plant-based medicinal ingredients? Find out more at our FREE webinar!
Date: Wednesday, April 28, 2021
Time: 8 pm EDT / 5 pm PDT
Venue: Online through Zoom
Tuition: FREE
Attire: Cocktail casual or comfy bathrobe
Hosted by: Karen Wang Diggs, Chief Fermentation Officer
Special Guest: David Crow, L.A.c, herbalist and founder of Floracopeia
What you will learn:
Selection of medicinal plant ingredients suitable and compatible with fermentation
Traditional use and healing properties of the ingredients
David's simple advice on maintaining health and equanimity during these challenging times
A recipe and herbal chart link will be included in your Zoom reminder emails prior to the webinar
If you can't join the live webinar, you can still register and a recording link will be emailed after the event.  
Please
pre-register
; space is limited.